전영섭 교수 논문(장희인, 허윤지 공저), 한국경제학술상 수상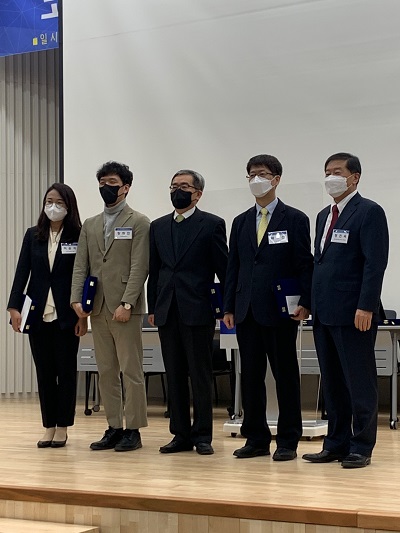 (왼쪽부터 허윤지 박사, 장희인 박사과정생, 전영섭 교수 순)
한국경제학회는 전영섭 서울대 교수, 장희인 한국전력공사 선임연구원, 허윤지 에너지경제연구원 박사가 공동으로 작성한 논문을 2021년 한국경제학술상(범 미시분야) 수상작으로 선정하였다. 한국경제학술상은 한국경제학회에서 매년 우수한 논문을 선정하여 수여하는 상이다.
전영섭 교수와 허윤지 박사 그리고 장희인 박사과정생은 해당 논문
"A Fair and Stable Benefit-Sharing for the Northeast Asia Supergrid under Flexible Networks"
을 통해 2030년 동북아 슈퍼그리드(거대 규모 전력망) 계획에서 추정되는 편익을 공평하고 안정적으로 배분하는 방법을 제시했다.
한편, 이번 시상식은 지난 2월 10일에 열린 한국경제학회 2021년 정기총회 중 진행되었다.
* 자세한 내용은 아래의 링크를 참고해주십시오.
한국경제학술상 기사 링크